Reaching Australia for Christ.
Giving everyone an opportunity of living forever.
There are millions of people in Australia who will miss out on going to Heaven because they have never had the opportunity of knowing clearly who Jesus is and how important it is that they place their faith in Christ to be their God and Saviour.
We are looking for Churches who will work with us and obey the command of Christ to go into all of the world and make known the Good News that God loves them, that He is willing to forgive them of all their sins and offer them a FREE GIFT of eternal life.
We cannot make people believe, but we can give everyone an opportunity of knowing God's love and the truth about what He has done for us.
We are launching the first stage of this very important ministry project called Time to MOVE
MOVE stands for – Motivation – Obedience – Vision - Evangelism
We are delighted to be working in Queensland with over 50 churches from many different denominations to give as many people as possible an opportunity of knowing about Christ. We were hoping to distribute up to 100,000 gospel booklets, but there will be in fact more than 130,000 gospel booklets distributed called 'Is there a God and can I live forever', along with an invitation to a special Christmas celebration. This could reach over 300,000 people with the gospel.
We have given out DL envelopes with the words invitation to a special Christmas event, along with a DL leaflet which includes the invitation to their churches Christmas event and celebrations, as well as the booklet.
The cost of this project including delivery will be about $0.25 per home and we are offering the materials free as we don't want money from stopping anyone from participating. We are accepting donations from those who want to participate and we want to express our great appreciation to all who have already made donations. All labour in this project is voluntary.
ANY donations to help cover these costs is greatly appreciated. Our account details are:
Great Commission Ministry inc. BSB 063108 Account No 10628020
This is a trial outreach as our plan is to get the gospel out to every home across Australia over the next two years.
We are also willing to hold Time of MOVE seminars to empower God's people to help fulfil God's great commission and to reach their world with the Gospel.
If you would like to know more about the Time to MOVE seminar please contact us through info@eternityisreal.com or ring Maurie Conry on 0418 387 091.
On Behalf of Great Commission Ministry Inc.
Pastor Noel & Tricia Newton (Churches of Christ Minister)
And
Pastor Maurie & Jenni Conry

"The Lord is not slow in keeping His promise, as some understand slowness. He is patient with you, not wanting anyone to perish, but everyone to come to repentance". 2 Peter 3:9
Giving everyone in Australia an opportunity of knowing Christ.
Under the leadership of Pastor Noel and Trish Newton and Pastor Jenni and Maurie Conry we have started in Queensland where we are working with the support of over 50 churches to distribute over 130,000 gospel booklets and an invitation to a special Christmas event.
We will place your churches details on the back of the DL leaflet. Please let us know what you require.
Throughout 2018 & 2019 we plan to cover all of Australia. If you want to join us please
register your interest here.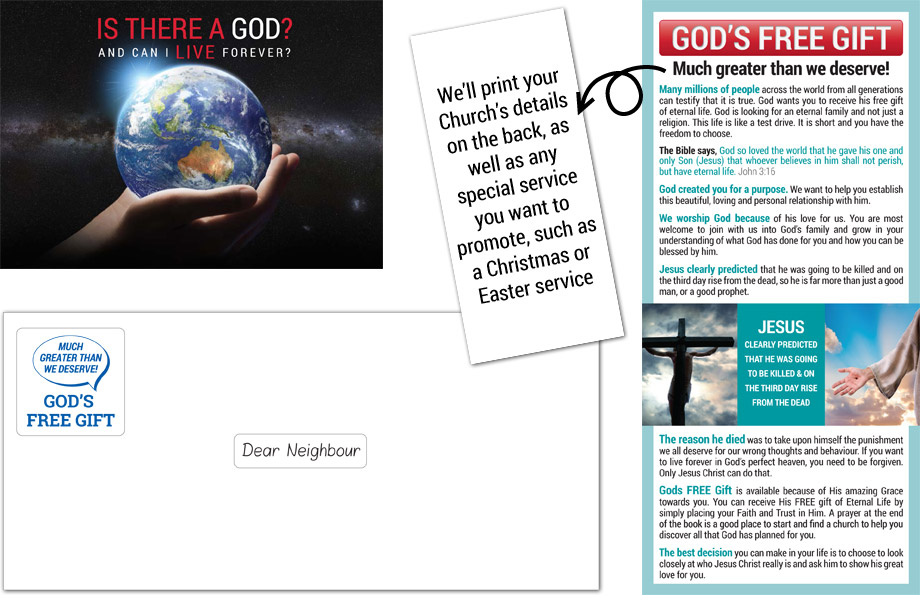 Featured